There are numerous tours and scenic routes I can suggest to help you get the most from your stay. Having been born and raised here I know all points to walk/hike/drive and explore. Here are a few…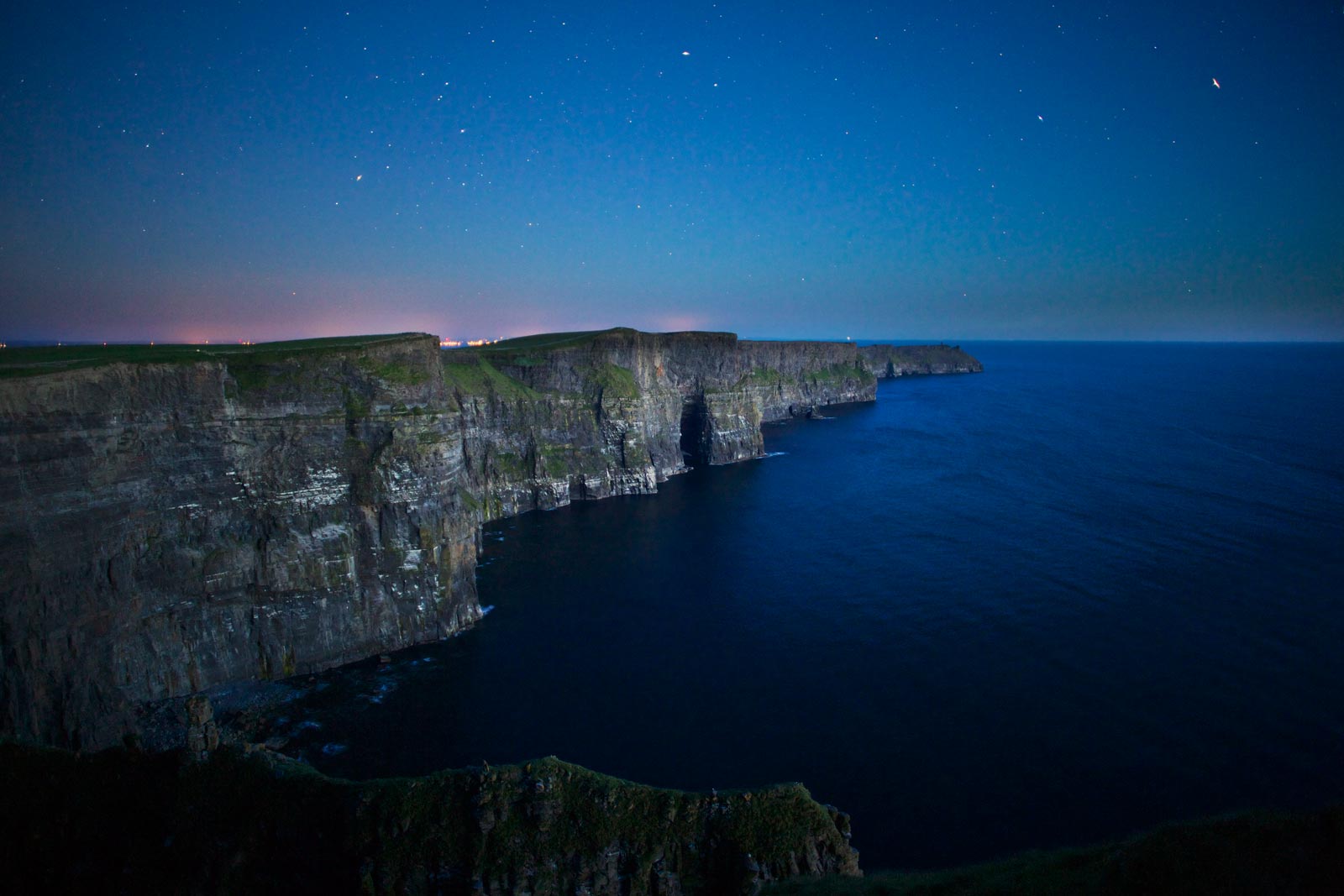 Cliffs of Moher
Enjoy the sights, sounds tastes, scents, of this enchanting place as you stroll from house to house or around the charming village street complete with school, post office, doctors house, hardware shop, printers and of course McNamara's pub!
Turn right out of our gate and an immediate left to the main road R471. Turn right at the R471 ( towards Ennis). At the roundabout take the second exit onto the M18 towards Ennis. Then take the N85 towards Ennistymon/Lahinch. At Ennistymon village turn left over a very tight corner ( worth stopping here to look over at the Falls and take a photo) then onto the N67.  Just before entering the seaside village of Lahinch then turn right onto the Liscannor road R478. You will see plenty of signposts from here to the Cliffs of Moher visitor centre.
Please see my blog for more personal suggestions on how best to view the Cliffs of Moher
Bunratty Castle
I highly recommend taking a half day out to visit Bunratty castle.
This is the most complete and authentic medieval fortress in Ireland. Built in 1425 it was restored in 1954 to its former medieval splendor and now contains mainly 15th and 16th century furnishings, tapestries, and works of art which capture the mood of those times. At night time the castle is the impressive setting for the medieval castle banquets which are held year round. It is only a 4 km drive from our house. They do fantastic medieval banquets that you should book at least the night before during summer months.
Please see my blog for more information on the Banquet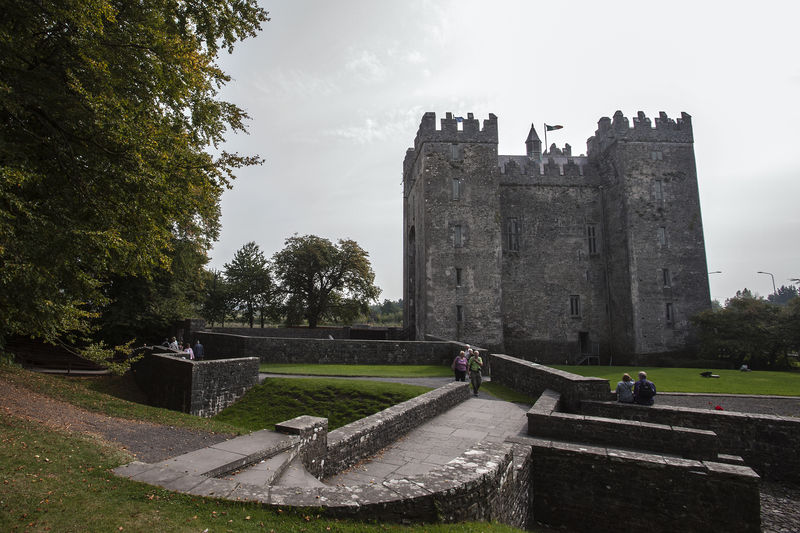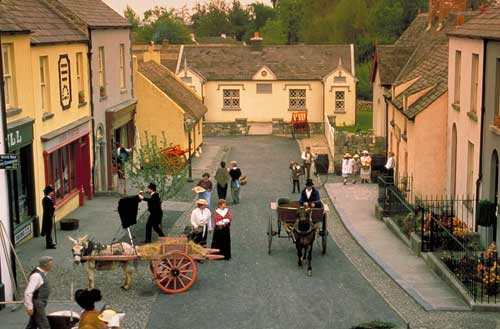 Bunratty Folk Park
Enjoy the sights, sounds tastes, scents, of this enchanting place as you stroll from house to house or around the charming village street complete with school, post office, doctors house, hardware shop, printers and of course McNamara's pub!
Read my Blog on Bunratty Folk Park
Dromoland Castle
Dromoland Castle is only down the road and it is where my family and I go for lovely long walks around the grounds and it's stunning walled garden. I would recommend to at least drive in and take a look and photo rather than drive by on your way to/from Balally House to Ennis. If you really want a memorable evening it is worth splashing out on an evening dinner here. It is pricey but special. Don't forget your tie and jacket!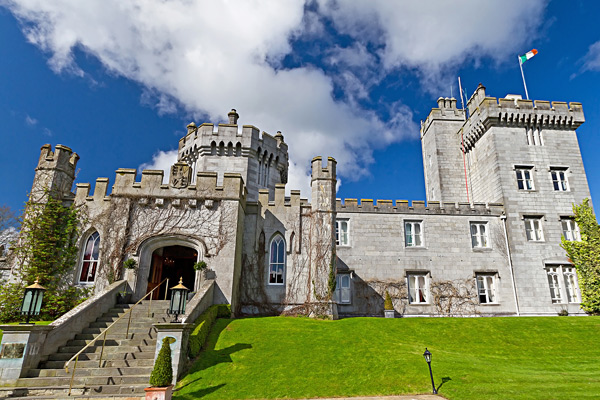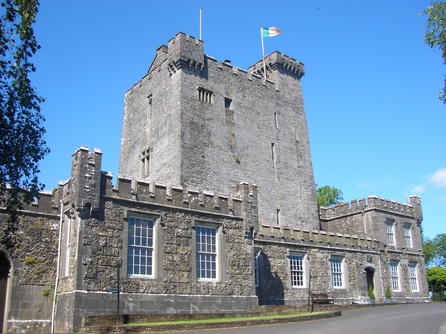 Knappogue Castle
Tucked away amid the rolling hills of Quin in Co. Clare just 5 mins from Balally House lies Knappogue Castle, a 15th century restored medieval tower house that proudly stands as a reminder of our past and reflects the medieval glory in which our nobility of yesteryear lived.
Inside the walls of this stronghold, medieval fantasy is brought to life. Here you can time travel back to a time of struggle for land and title or join in nights of merriment and song, while feasting over a great banquet.
It has a 1.7 acre garden that has been restored. It is worth stopping if on your way to Craggaunowen.
Craggaunowen
At Craggaunowen you will experience the resilience and fortitude of these early Bronze Age settlers.
Explore the Crannog – an artificial island dwelling defended by a hidden pathway in the water. Travel back in time to the life of the hunter-gatherer in the Ring Fort. You will see how the Celts carried out their every-day activities as they cooked over open fires or in pits; ground corn for making bread or porridge on hand-powered querns; or made pottery, wooden bowls, goblets and platters.
Do you know who really discovered America? Visit the Brendan Boat – a leather hulled boat built by Tim Severin who sailed across mid-Atlantic, re-enacting the voyage of St. Brendan and the early Christian monks reputed to have discovered America centuries before Columbus!!
Explore Craggaunowen Castle the 16th century restored Medieval Castle built in 1550 standing defiantly on a crag overlooking the lake and enjoy magnificent views of the countryside. Observe rare and really interesting animal breeds such as wild boar and soay sheep – specimens of the prehistoric era.
Admission is from Easter Saturday to September 13th 2016 10am – 5.00 pm, last admission 4.00pm. Craggaunowen closes for the season September 13th 2016.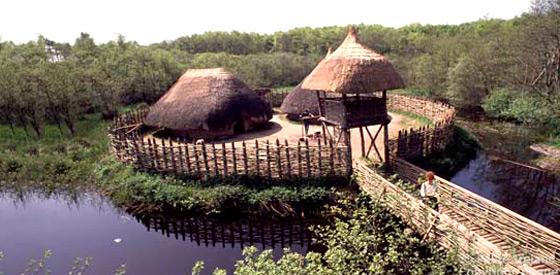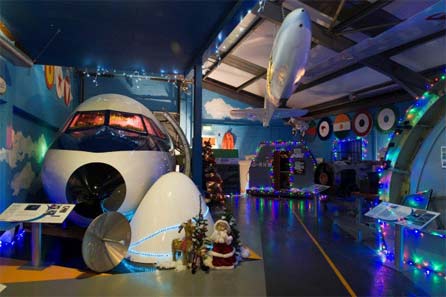 Atlantic Airventure Aviation Centre
This is a 5 min walk from Balally House.It is a fun attraction, Atlantic AirVenture call themselves a living and breathing learning hub. They provide educational and fun activities, based on real-world lessons, for both adults and children
Dysert O'Dea Heritage trail
Surrounding the castle is the Dysert O'Dea Archeology Trail (4km) containing 25 original field monuments, this can be walked or driven. The monuments date from 1000 bc to 1850 ad and include two Romanesque churches, the famous 12th century illuminated doorway and high cross of Dysert O'Dea, two 15th century tower houses, 1st millenium stone and earthen forts, holy wells, fulachta fiadh, proselytising schools, landlords houses, medieval roads and many more.
To learn more visit my recommended walking routes on my blog.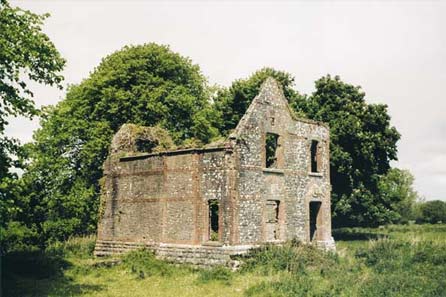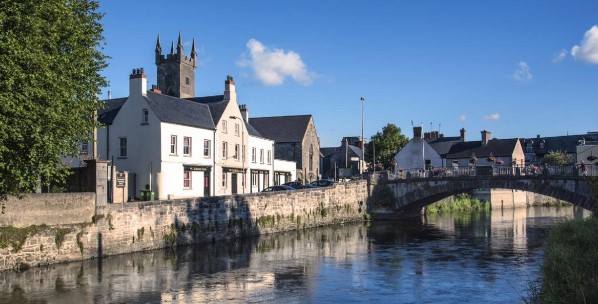 Visit Ennis
So Ennis is only a 15 min drive from Balally House and I highly recommend visiting. It's a heritage town packed with signs of past times.Situated at the heart of the county on a bend in the River Fergus, Ennis is the capital of County Clare. It's an historical town and is certainly one of Clare's most characterful and picturesque centres – with its narrow, winding streets, historical buildings and busy market town atmosphere. At the same time, the town has many modern influences.There's plenty to see and do – from the Franciscan Friary that dates back to 1242, to the Clare Museum that offers a fascinating look at the area's history. Or just take a walk through town to admire the many houses and shop fronts that line the streets along with the courthouse and cathedral – all of which make up the unique character of Ennis. The shopping is great in Ennis which has long been known as 'The Boutique Capital of Clare' and there are many delicious eateries, bars and restaurants.
Visit Limerick
You can always take a day trip from Balally House to Limerick just a 15 min drive away. It is a busy City with all the modern influences but what I love about Limerick is its deep history. King Johns Castle which was a 13th Century riverside fortress is an impressive site. I recommend entering Limerick by taking the R445 from Shannon, then turning left onto the Clonmacken road, at the roundabout take the 3rd exit on Cratloe road, continue onto high road, Thomond Bridge and onto Castle road where you will be rewarded with a great site. Visit the Hunt Musuem, Frank McCourt Museum. If it's a shopping day you want Limerick has it.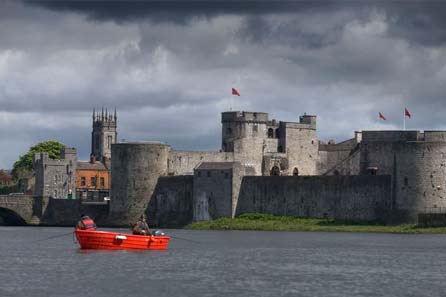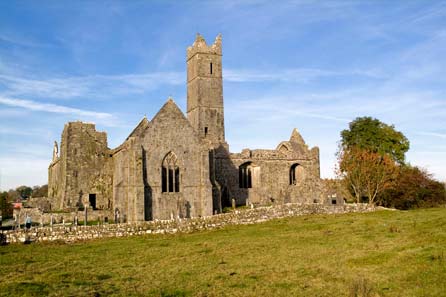 Nearby Abbeys
Quin Abbey is only a 16km from Balally House. It is a cute village to call into if passing to/from Ennis or you decide to visit Dromoland as it is right next store.
In the 14th century, the Franciscan abbey at Quin was founded. The cloisters, which remain one of the abbey's most prominent features, were constructed in the 15th century. Additionally, from the top of the tower, visitors can take in stunning views of the surrounding countryside.
Clare Abbey you will see from the N85 road as you are heading to Ennis from Shannon or vice versa. Clare Abbey is a ruined Augustinian monastery located near Ennis and about a mile north of the Clarecastle in County Clare, Ireland. The abbey was founded in 1195
Horseriding
Castlefergus Equestrian centre and Ballyhannon Horseriding shchool are only a 12km drive away from Balally House. Let me know if you would like me to book you in for a ride.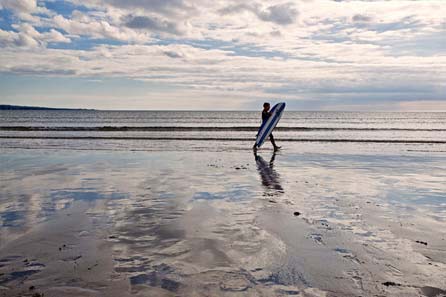 Surfing
We are only 45 mins to Lahinch where you will find plenty of surfing schools to hire a board from. There are plenty of other beachs nearby to find the surf.
Visitor Farms
A great day for the family is to visit either Stonehall Farm a half hour drive from Balally house or to Moher Visitor Farm near the cliffs of Moher which is less than an hour from here. Both I love. Stonehall is near Adare, one of my favourite villages to visit as it is so picturesque so you could visit both for the day and keep everyone happy. Or you could visit the Moher farm when visiting the Cliffs.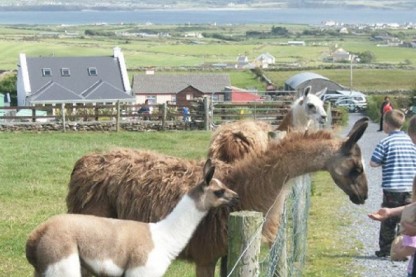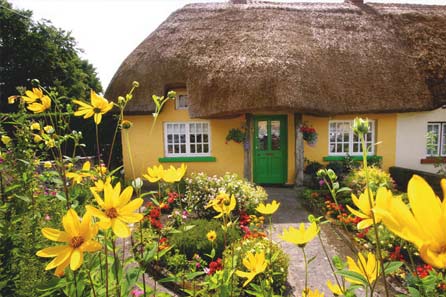 Visit Adare Village
I just love visiting Adare. It is only a 25 min drive from here. It is a great boutique shopping location on top of having an architectural wealth of scenic beauty, Adare's main street is punctuated with beautiful stone buildings, medieval monasteries, ruins and a picturesque village park
Visit Killaloe
It is a 35 min drive from Balally House.
Killaloe, County Clare, Ireland, stands on the River Shannon on the southern end of Lough Derg. What better way to get an insight into the Celtic and nautical significance of Lough Derg and the River Shannon than by visiting the Brian Boru Heritage Centre.The Diocese of Killaloe owes its existence to the efforts of Brian Boru (c 941-1014) who ruled the Kingdom of Ireland from here (1002-1014)With its backdrop of hills (the Slieve Bernagh mountains to the west in County Clare and the Arra Mountains in County Tipperary North to the east), its indented shores, shapely bays and numerous small islands, Lough Derg offers many thrilling vistas to the sight-seer.
The panoramic views from Ogonnelloe (9 km from Killaloe on the western shore) and the Look Out (a designated viewing point with car parking facilities, also 9 km from Ballina-Killaloe on the road to Portroe) are truly spectacular
A farmers' market of locally produced food, crafts and assorted goods operates at Killaloe on Sundays between 11 am and 3 pm. The setting is the land bank between the river and the canal, known locally as Between-the-Waters
Clare on its west side, Tipperary to the east and Galway to the north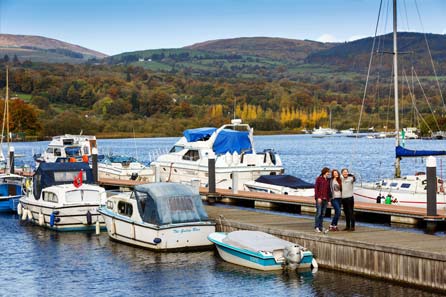 Visit Loophead Peninsula
The Loop Head peninsula on the west coast of County Clare juts into the Atlantic Ocean like a gnarled finger pointing westward. It is bounded on the north and west side by the Atlantic Ocean and on the south by the River Shannon estuary with barely one mile of land saving it from island status meaning it has one of the highest ratios of coastline to land surface in Ireland. It is in the middle of the Wild Atlantic Way a 2,500 km of finest Coastal Scenery in Ireland.
The Loophead lighthouse is overlooking the whole area. The peninsula is bounded to the east by European designated conservation areas. Within this small triangle lies the entire range of coastal ecosystems found on the Atlantic coast of Europe.The area is sparsely populated with Kilkee being the only centre of population. There are three attractive villages encompassed in the peninsula, in the Loop Head Peninsula, Kilbaha, Cross and Carrigaholt. They are relatively small and untouched by development. The peninsula is extensively farmed, mainly with dairy herds.
Loop head Lighthouse is a huge tourist attraction in the area. Achievements and Awards
Loop Head is the winner of the European Destination of Excellence 2010 and also the Irish Times Winner of the Best Place to Holiday in Ireland in 2013.It won this award for its beauty untouched, amazing activities and Eco friendly tourist area.
Please check out my blog on taking the trip from Balally House: Loop Head Route
Dawn's Shannon Diary
For more detailed information on what you can do during your stay in Shannon please follow Dawn's diary as she explains all that The Shannon Region has to offer.