So with this in mind I would like to recommend some wonderful spas nearby that you could take advantage of. We have plenty of options. As usual I will start with my favourite.
No 1 Perry Square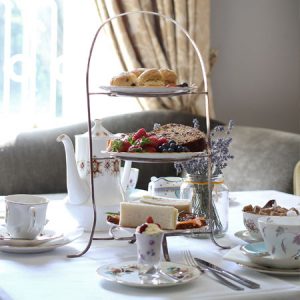 Spa No.1 Pery Square in Limerick is only a 15 minutes drive from Balally House and it is housed within the vaulted basement of No.1 & is a real urban retreat. The basement vaults were restored to create the Spa, retaining their exposed brick and original stonework, and making a quiet, soothing backdrop to a holistic experience.
The spa offers a range of wellness, pampering and beauty treatments for men and women.
The spa also offers a superb thermal experience which includes a herbal cocoon, coal bunker sauna, aroma steam room, Irish mist showers and a zen garden.
Overlooking the handsome, tree-lined People's Park in Limerick's historic Georgian Quarter, No.1 Pery Square is a luxurious and intimate boutique townhouse hotel. No. 1, is one of a terrace of six Georgian houses built around 1830 by the Pery Square Tontine Company. My favourite part of why I book into this spa is I love to have High tea afterwards. I usually book the classic La Maison Pery Afternoon Tea which includes a selection of sweet & savoury Items with Tea or house blend coffee. Its very reasonable at only €25 and is a real treat. The plus side of being in the city is you can get some shopping in also.
Dromoland Castle Spa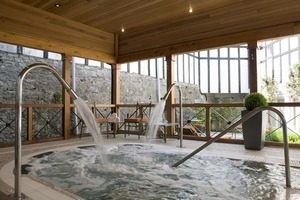 https://www.dromoland.ie/spa.html

The next spa is the opposite to the above urban retreat Georgian town house and is in a 15th century castle only 10 mins from Balally House located in a large estate.

This luxurious spa consists of six treatment rooms, two dedicated manicure and pedicure rooms and a gazebo covered outdoor hydro pool. They offer everything from massages, facials to nails and makeup but I do find them a little more expensive than Perry Square. You can attend afternoon Tea here also in the Castle itself which is nice or walk the grounds and walled garden.

Kilkee Thalassotherapy Centre

http://www.kilkeethalasso.com/welcome.html

Seaweed baths are popular in Ireland, but are not a recent phenomenon as many date from Edwardian times. They are ordinary baths (usually for one person in a private room) filled with hot seawater and seaweed. The wrack is generally steam-treated prior to use so that it releases minerals, trace elements, and polysaccharides such as alginates.

Many people swear by the efficacy of seaweed baths in the treatment of rheumatism and arthritis. Kilkee is a one hour drive from Balally House and worth taking in the walks before your treatments.

If it is not about the setting and you really do not have all day to indulge but would still like a holiday treatment then here are a list of local beauty rooms. There is always time for a massage!

The Beauty Rooms – Less than a 1 km from Balally House set in an old stable yard

Gina G Beauty and Tan – 5 min walk from Balally House

Olgas Nail Salon – 10 min walk from Balally House

Abbey house Beauty – 1 ½ Km from Balally House

Angsana Spa in Bunratty Castle Hotel – 4 km from Balally House

You can of course try book these here but I would recommend you book and get it into your plan before you arrive. As usual talk to me if you have any questions 00353 86 3714444

Most of my guests are all go from morning to night and sometimes I would like to remind them to slow it down. I know what my husband will say when he reads this. " You are one to talk" because every time I'm on holiday I am that person wanting to see everything and not miss out so I drag my husband out the door first thing and go all day with my plan and map in tow but it is important to remember it is your holiday and therefore you should unwind and take some me time because before you know it your back on the plane exhausted.