This is such a great day out for the whole family.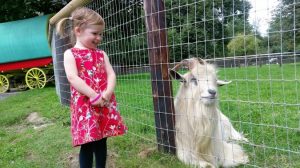 It really is worth seeing especially if travelling with children. My daughter pictured above saying "hi" to the resident goat. It is a stunning recreation of 19th Century Irish life featuring over 30 buildings including farm houses and a village street.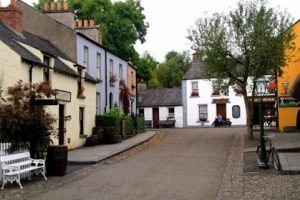 It gives you an excellent example of how life must have been. From around Ireland they have taken down houses and cottages stone by stone and rebuilt them here. I take my own visitors here all the time as it is a guaranteed winner. The kids will love the deer, pigs, chickens, pygmy goats, donkeys and the Irish Wolfhound. There is even a great wooden playground. The highlight for my kids is the Fairy forest. It is the best in Ireland with dozens of fairy doors. Here is my son and daughter looking at them.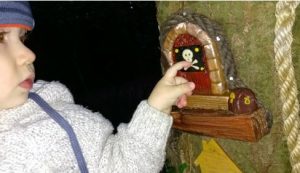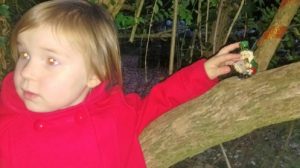 The older kids will love climbing the stairs of the Castle. I can honestly say if you are going to visit any castle in Ireland on your trip this is the one to visit. During the summer months they have characters dressed up in each of the houses which brings life to the place. I suggest talking to the school teacher as he is full of information and will even give you an Irish lesson.
After visiting the park I suggest hitting the Meadows and Byrne shop across the road for any presents you would like to get for friends back home as it is a real classy shop. I don't recommend eating at the pub in the park (it is nice for a pint though) but to go across the road to Durty Nellies pub and eat lunch.