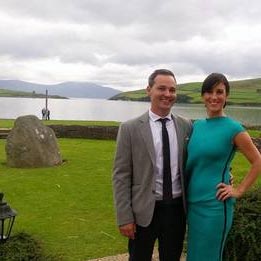 Hello there, I am excited to be writing my first blog on our new Balally House website. My husband and I started this new venture in May 2015. It was a complete new chapter in our lives. We had being living in Dublin with our two year old daughter and decided to move to the beautiful west coast. I grew up here in Clare and so I knew very well of its beauty and it would make a wonderful home. When I say it was a new chapter, it was in more ways than one…It was a new business, a new area, a new career for both of us, a new home, and I was pregnant with our second child. Needless to say we have been busy but we love what we do.
We enjoy welcoming guests from all over the world to our home. We fully understand that everyone is on their special holiday and it is important to ensure they are not only comfortable but that they know where is best to visit. I travel and so I know how time consuming it is to figure out what is best to see within the time frame you have. The internet can be a minefield, it is always best to ask a local. Well I am that local. Hand on heart I can tell you, you can spend a week in this one spot and still not have the time to see all it has to offer.
So I have decided to write a blog here for you to follow or to read before you arrive. My first few will be easy one day driving itineraries from Balally House. Balally House is not only situated near Shannon Airport at the gateway to The Wild Atlantic Way giving direct access to stunning County Clare but ideally placed to visit its surrounding counties. My itineraries will stretch approximately an hours drive from here. You will be amazed at what you can discover and it means you do not have to pack and unpack and spend time trying to find your next accommodation you can settle in and relax which is what holidays should be all about. As time goes on I will for sure go into more detail on my other blogs. I will also include how to travel from my house by public transport as we are only two minutes to a main route bus stop on the airport road. It is hard to know where to start as I am bubbling with ideas so I will start with my favourite route, and where I personally bring my visiting friends.
The Loophead Route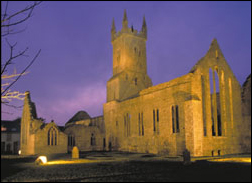 1. Drive the 16 mins to Ennis town the capital of Co Clare.
Ennis is a charming old market town with its narrow streets and lanes. It represents a pleasant blend of the historic past and the active present.My mum grew up here, I love it not only for its historic beauty but its dozens of fab boutique shopping. If you are wanting to shop on your holiday this is the town to do it. As a side note, there is plenty of irish music to be heard of an evening in lots of its cosy pubs.
2. Continue 30 mins along The Wild Atlantic Way route to the historic harbour town of Kilrush.
A highpoint close by are the grand Vandeleur Walled Gardens. Here, beautiful old stone walls enclose a sheltered 2 acre walled garden which is set among 420 acres of native woodland. A great way to break the journey.
Or located approximately one mile off Kilrush, is Scattery Island which is home to a monastic settlement founded in the early 6th century by St. Senan, who was born locally. Access to the island is dependent on tidal/weather conditions and boat trips leave from Kilrush Marina.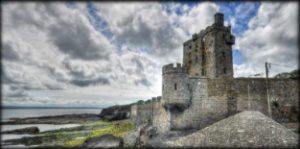 3. Continue 24kms to the village of Carrigaholt along the N68, approximately 50 mins from Ennis, this road is a country drive so a pleasant one.
Just 5 mins before Carrigaholt I'd like to quickly mention I take my daughter horseriding in a small place called Querrin. https://www.facebook.com/CarmensRidingSchool The owner Carmen will tell you the local areas history while you ride down to the shore.
Ireland's greatest river, the river Shannon opens out to the Atlantic Ocean at Carrigaholt. It is a historic fishing port. I love to fish at the pier with my family in the shadow of the castle. This spot is also home to Europe's largest group of bottlenose dolphins. With approximately 200 individuals here at the Mouth of the Shannon, the dolphin tour encounter rate is one of the highest in the world and the best place to see dolphins in Ireland. You can book them here http://www.dolphinwatch.ie/
The Long Dock pub and restaurant here is super cosy and has an award winning fish menu due to fish being caught on its door step. You will probably not be hungry now after our super hearty breakfast if you came straight here without stopping in Ennis or Kilrush but perhaps on your way home from doing the Loop Head peninsula keep it in mind. You can loop back around this way anyway quite easily.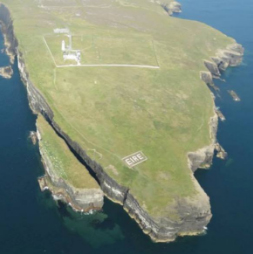 4. From here take the coast road to the lighthouse which has been flashing its signals for 300 years.
Dramatic cliffs stretch all along the coastline. Put on your walking boots and head out into the landscape! Enjoy spectacular scenery. An ideal way to clear the cobwebs of the car, I would recommend downloading for free The Loop Head Heritage Trail audio guide. http://www.abartaheritage.ie/product/loop-head-heritage-trail-audio-guide/. Find out why E-i-r-e is written on the ground…

5. From the tip of Loop Head head to Ross Beach and Bridge we call the Bridges of Ross.
There is an opportunity to see whales and dolphins from the coast, as well as a variety of nesting seabirds. Here is a photo my mum took of the Bridges of Ross. Some people park the car and take a quick look at the beach and not realise you have to walk the path to see the natural bridges. I've often seen them on my walks as it's such a great vantage point around the tip.There's a good chance that a seal might pop its head up to have a look at you!
4. After the Bridges of Ross head north for spectacular scenery and honestly the real Ireland. The way of life here is still very untouched and I always get a true sense of country Ireland and what it is all about and I'm sure what you came to Ireland to see. You will love it.
5. Head past the cliffs of Dunlicky onto the popular victorian beach town of Kilkee. My favourite spot here is to walk the 8km circular cliff walk along the cliffs of Dunlicky. Park your car at the Diamond rocks Cafe (to the very left of the beach up the hill) and follow the cliff path passing the Pollock Holes, the quartz-filled Diamond Rocks and a natural stone amphitheatre formed by the waves, you arrive at Intrinsic Bay, named after a ship, the Intrinsic, which sank along with all 14 hands on board in 1836.
At this point there is a steep climb for about 200 metres. Arriving at the top, the coastal path turns inwards to Dunlicky Road.
For a short, five-kilometre walk, turn left here and head back towards the town. For a longer, eight-kilometre walk, turn right along the coast until you come to a left turn. This road, with beautiful views over the town coming down Moveen Hill, takes you back into Kilkee.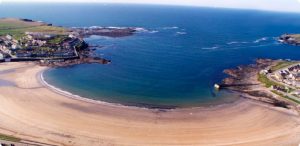 Golf enthusiasts can test their skills on Kilkee scenic golf course.
It is 75 km (1 hour) back to Balally House. Perhaps stop in (45 mins) at Ennis for dinner on your way back. If its trains that interest you take note of the west clare railway museum in Moyasta village while passing through.There are over 12 holy wells and ring forts along this peninsula drive so keep an eye out.
This journey can take as little as 3 hours if not stopping or all day. You are never more than an hours drive back to your cosy room really, so you can't go wrong and as I mentioned it is my favorite. Enjoy.