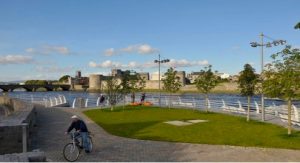 Drive or take the bus 16 km to Limerick from Balally House.
The walk basically follows the banks of the river Shannon in the city centre and you will cross two of the three bridges, which span the river. The older bridges Thomond and Sarsfield bridges are pretty impressive sights. On clear days especially in Spring, Autumn or Winter you will have wonderful views of the Clare Hills. The walk takes in the most historic parts of Limerick including King John's Castle, King's Island and St Mary's Cathedral.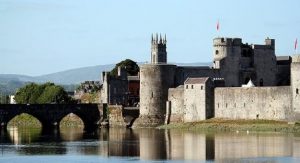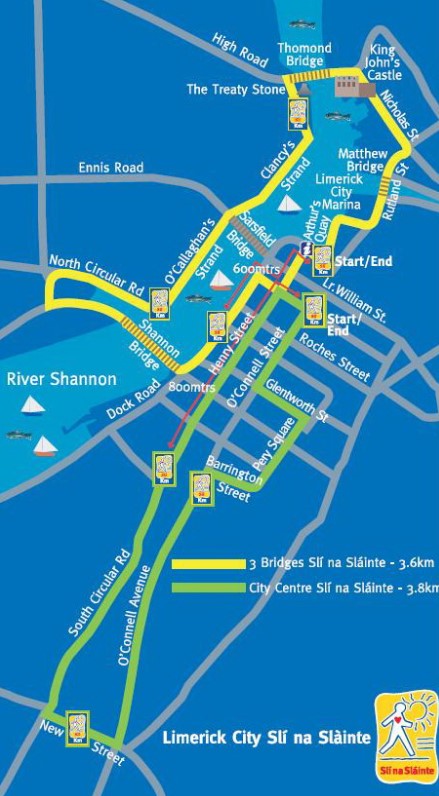 If you wish, you can make a quick visit to the Hunt Museum which this walk actually passes. The Limerick City Council have made great improvements to the walk on the north bank of the river Shannon, which now includes a short boardwalk close to the Treaty stone. The are some excellent pubs and cafes on route for those in need of refreshment. You could combine this walk with part of the Lough Derg Way by parking up in the city centre and taking a bus (304) to the University of Limerick, which is possibly the best located campus in the country with many beautiful walks and facilities. The river Shannon flows through the campus. You can return on foot to the city centre via the river and canal towpath, this takes 45 to 60 minutes good walking. You do not hit a really built up area until you arrive in the city centre at the Abbey river. Follow the bank of the Abbey river and you will meet the Shannon and the route of the three bridges walk. The Three Bridges Slí na Sláinte is a 3.6km route which starts near the tourist information point on Arthurs Quay. The walk follows a stunning route along the banks of the River Shannon, crossing Matthew Bridge, passing St. Mary's Cathedral and the historic King John's Castle, before crossing Thomond Bridge, and passing the Treaty Stone on Clancy's Strand.